For teachers or professors in Religious Studies, the Sciences, Big History, or Other Topics:
Module Drop-Ins on Science & Religion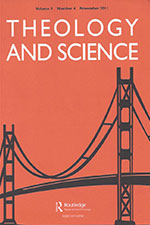 Dear Professor or Student of Science & Religion:
At the Center for Theology and the Natural Sciences (CTNS) we have for some time encouraged faculty in undergraduate institutions, seminaries, and university graduate programs to integrate the dialogue between Science and Religion into existing disciplinary teaching. Students both in the sciences and in Religious Studies or Theology would benefit with this broadening of horizons.
What we offer here is a number of individual Modules on selected topics which could easily be dropped-in an existing syllabus. In a 3-credit science course dealing with physical cosmology or evolutionary biology, for example, the faculty person could simply drop in a module on astrotheology or the evolution controversy. In a university or seminary setting, a professor of Hebrew Scriptures might select one or both of these same two modules as well. Each module is designed for one week's study out of a quarter or semester, whether the class meets once for three hours or twice for ninety minutes. Below is a list of the modules included here. Let me know how well this works for you.
What is a Drop-In Syllabus Module?
Complete Set of Drop-In Syllabus Modules
Individual Modules
Introduction to the Science & Religion Dialogue
Animals in Science and Theology
Astrobiology, Astrotheology, and Contact with ETI
Big History (completer course)
Creation, Big Bang Cosmology, and the Fine Tuning of the Universe
Ecology & Ethics
The Evolution Controversy
Genetics, Stem Cells, CRISPR, and Bioethics
Islam and Science
Judaism and Science
Neuroscience & Theological Anthropology
Physics and Divine Action
Transhumanism: Theological Responses
Selected READINGS for Drop-Ins (educational settings only)
Nick Bostrom, "Introduction–The Transhumanist FAQ: A General Introduction"
Lincoln Cannon, "What is Mormon Transhumanism?"
de Grey, Aubrey, "Defeat of Aging–Utopia or Foreseeable Scientific Reality?"
Muzaffar Iqbal, "And These are the Signs: The Qur'an and the Order of Nature"
Michael Lattora, "What is Buddhist Transhumanism?"
Seyyed Hossein Nasr, "The Question of Cosmogenesis–the Cosmos as a Subject of Scientific Study"
Ted Peters, "Astrotheology"
Ted Peters, "An ETI Myth in the Heart of Science"
Ted Peters, "Introducing Astrotheology"
Ted Peters, "Science in Seminary? Really?"
Ted Peters, "Theology and Science: Where Are We?"
Ted Peters, "Transhumanism and the Posthuman Future: Will Technological Progress Get Us There?"
Oliver Putz, "Moral Apes, Human Uniqueness, and the Image of God"
Rita D. Sherma, "A Hindu Response"
Alan Weissenbacher, "Ten Principles for Interpreting Scientific Neuroscientific Pronouncements Regarding Human Nature"